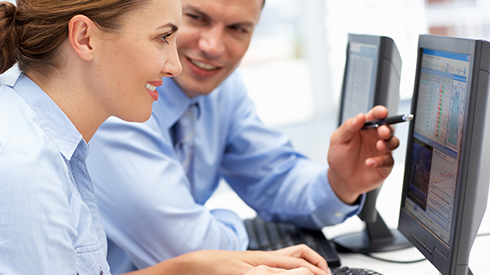 Website Optimization Helps To Enhance Customer Experience
Customers' experience and suggestions help enhance your Website's navigation, usability, appearance, draw and thus provide greater user-friendly experience.

Website Optimization Helps To Enhance Customer Experience
Website Optimization Research
Why Just The Facts Market Research for Website Optimization Research?
Quality Optimization Perspectives on New or Relaunched Websites

Just The Facts Market Research is highly experienced in unique methods of website optimization research to maximize customer ease of navigation, usability, desired content, overall appearance and drawing power.

Oftentimes websites are created without customer input, experience, and suggestions. This leads to ineffective and non-productive sites that are frustrating to use and navigate.

In client studies conducted by Just The Facts Market Research, website customers consistently tell us that unless they can find what they're seeking in less than 5 minutes, they move on to your competitor.

Our proprietary website optimization research methods perform in-depth evaluations of users to determine what does and doesn't work during their "search" experience through your company's website.



Using both qualitative and quantitative proven optimization research techniques Just The Facts Market Research can uncover hidden and over-looked factors that quickly irritate your website users. We evaluate all aspects of your website to ensure it is a convenient and intuitive experience the first time, so customers keep coming back.
Client-Partners

Just The Facts Market Research works closely with B2B and B2C clients on their website optimization research with a process that takes your customers through all aspects of your website and its usability.

As your website research optimization partner, we thoroughly examine every component of site navigation and usability so your customers experience 'zero' frustrations.

Clients appreciate JTF's uncanny ability to develop clear strategic recommendations. As your website optimization research partner, we ensure that your site works harder and delivers more prospects and customers.

To discuss your project needs, call us today at 847-506-0033 for a FREE consultation!
What is Website Optimization Research?
Just The Facts Market Research begins at the foundation of a new or existing re-design website project. In our proprietary website optimization research we execute the following:

Interview your website users directly (using focus groups or one-ones – IDIs)
We probe for the optimal experience they're seeking from your website
Likes-dislikes of your website
Ease of use- navigation vs complexity
Evaluation of content
Overall design and placement
Comparison to your competitors' sites
What would enhance and improve your website
What brings them back to a website like yours
Decision factors that your website accomplishes versus your competitors
Website Optimization Research Results
All too often our clients come to us after their website has been developed by a design team who has done no testing with clients concerning it usability. These clients wonder why prospects and customers don't contact them or return.
There are lots of great designs out there, and they're aesthetically pleasing, but do they work for generating you business? That is the key question clients must be asking themselves.
Just The Facts Market Research website optimization research testing removes all the guess work from new or re-designed websites, ensuring they've been fully vetted for optimization, ease of use and navigation, and desired content.
Clients tell us our optimization research methods have been invaluable in enhancing and developing the most optimal user-friendly websites. Just The Facts Market Research delivers results in website testing.
Call us today at 847-506-0033 for a FREE optimization research consultation and gain "YOUR COMPETITIVE EDGE!"