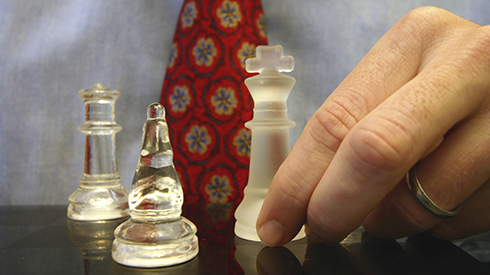 Unique Competitive Intelligence for B2B | B2C Investigations
JTF provides deep competitive insights based on your unique needs. Our clients gain a dramatic competitive edge that delivers quality B2B or B2C solutions and results.

Unique Competitive Intelligence for B2B | B2C Investigations
Your "Go-To" Competitive Intelligence Partner
Long-standing Exposure to B2C and B2B Industries

JTF Research has broad abilities in "Consumer" and "Business to Business" competitive intelligence. Methodologies are often similar, and we've developed unique intelligence competencies providing synergies between the two worlds of B2C and B2B.

Our staff is divided into "intelligence" abilities; depending on the client's unique study needs, we select and deploy appropriate human intelligence assets to an assignment as project needs are assessed.
Extensive International CI Investigative Background

Clients consider Just The Facts Research among "the" premier competitive intelligence solution-providers in North America and Globally.  JTF resources are world-wide, capable of uncovering valuable client insights, providing significant Global advantages over competitors.
Client-side Experience

Because we started on the client-side of competitive intelligence, working for major corporations, our expert staff understands today's needs for timely insights, providing clients that "competitive edge."

Our team has experienced the stresses of daily life for our clients in the competitive world. With years of seeing competitors' strategic and tactical actions, JTF knows about gaining key insights on what's effective. Our real-world experience is your competitive advantage!

Client-Partners

Just The Facts Research works as your competitive intelligence partner, discovering key intelligence to drive your business success. Our Intelligence Research begins with listening carefully to client needs, goals, and competitive challenges. Then we map out strategies for bringing the client up to speed, keeping them ahead of the competitive curve.

Senior management appreciates JTF's keen insights gleaned from our professional expertise and competitive investigative abilities which are second to none. The JTF team "goes the extra mile" for our intelligence seeking partners. We know the deep importance and broad implications of decisions based on foundational competitive intelligence activities we undertake.
Quality CI Results in Meaningful Competitive Perspectives


Just The Facts Research understands the importance of the Competitive Intelligence work performed for our clients. We achieve exceptional results through unique time-tested methods, combining in-depth "Human-Intel," personal investigation, access to our vast "Knowledge Network, ™" global relationships and secondary resource capabilities.

JTF's Competitive insight's process is much more than "fact finding." We combine deep insights found only through pure hard work with persistence and knowing where to find the useful sources of Competitive Intelligence our clients are seeking.

Your team needs to keep far ahead of your competition.  Our resources provide the results, keen insights, and quality results to maintain YOUR "Competitive Edge!"
To discuss your project needs, call us today at 847-506-0033 for a FREE consultation!
Competitive Intelligence
JTF Intelligence Research is highly experienced in tackling clients' most challenging "Competitive Intelligence" engagements. We work in the U.S. and 60+ countries around the world.
Our global Competitive Intelligence partners are carefully selected for their quality work, attention to detail, cultural knowledge, and, of course, native language.
Just The Facts Research assignments typically include a mix of Secondary (Desk Top) Research blended with the exploration of primary "Human Intel™" through in-depth interviews seking key "insights" from our proprietary "Knowledge Network™."
Our Competitive Intelligence associates are among the most talented in the CI Industry. Our JTF staff have well-developed interpersonal skills, enabling them to build relationships and dig deep into projects.
"Human Intel™" utilizes expert phone consultants who possess finely honed communication and probing skills, enabling Just The Facts Market Research to unearth current, real-time insights not available through any other means.
The addition of Secondary and Desk Top resources gives JTF access to as many as 7,500 proprietary data-sources, each with millions of data sets. These might include information from news articles, trade magazines, industry association papers-studies, key note speeches. Our sources also tap into industry conference notes, PR releases, existing private research studies, investor reports and analysis, and a host of other unique files available only to Just The Facts Competitive Intelligence group.
Our Competitive Intelligence Studies Provide Complete Turn-key Solutions:
Market landscape overviews of industries, categories and products for established and evolving segments
Market assessments in terms of current and potential opportunities and attractiveness to clients for both new "green fields" or merger and acquisition scenarios
Competitive studies of individual companies, industries, markets, and products, providing a wealth of unique insights to guide clients' strategic plans and actions
Store visitation, interviews and analysis for baseline learning, trends, and insights
Global product and sample pick-up for testing, comparison and evaluation
To discuss your project needs, call us today at 847-506-0033 for a FREE consultation!