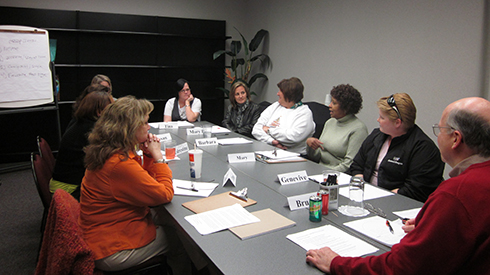 High Quality, In-Person Focus Groups & IDIs Rated "Best-In-Class"
Just The Facts In-Person Focus Groups and IDIs are uniquely rich in their organization, moderator skills, and delivering on rich insights, and actionable results.

High Quality, In-Person Focus Groups & IDIs Rated "Best-In-Class"
"Qual-Quant™" 
In-Person Focus Groups & IDIs
"Qual-Quant™" Qualitative Overview for B2C and B2B Assignments
Just The Facts Market Research is highly experienced with "In-Person" Focus Groups, In-depth Interviews ( IDIs ), Shop-Alongs, Bulletin Boards, Mobile Research, In-Home Observations, and Ethnographic exploration.
The dynamics of our in-person focus groups are unrivaled due to the uncommon personal dynamics and group interchange that takes place. The key to this, is developing group comfort and cohesion based on the skill set of the moderator. JTF moderators work hard establish the rapport, tone, behavior, and group synergies which deliver rich "insights" that less skilled moderators just don't have.
If you've had a "not so great experience" with focus groups in the past, it's likely due to the moderating skills, or lack there of.   Not so with JTF; we are always highly praised for the quality of our group sessions.  We guarantee you will be delighted with our moderating on your next project.
The depth of strategic probing from our unique "Qual-Quant™" methods provide an unparalleled richness and insight into clients' deepest qualitative research needs. Our work spans a broad range of B2B and B2C projects with equal quality and results.
With 30+ years of moderating experience and thousands of qualitative, focus group,and IDI market research assignments, JTF has experience, knowledge, and understanding of how to get the best results for our clients' qualitative marketing research assignments.
What is Qualitative, Focus Group, and IDI Market Research?
Qualitative methods are an excellent method of conducting a 'deep-dive' on topics, subjects, and areas of interest to our clients.  Exploratory in nature, it looks at the thought process behind decisions, perceptions and reactions to ideas or stimuli shown.
Qualitative, Focus Group, and IDI market research might include exploring: new concept ideas, new or existing products, advertising, customer perspectives, competitors' performance, and much more.
Typically this market research is conducted with a relatively smaller number of focus group respondents (e.g. focus groups of 5-10 or IDI – in-depth interviews among 10-40), in order to capture their aided and unaided insights.
Shop-Alongs and In-Home Observation provide significant opportunities to experience issues "Immediate Moment™", while decisions are being made or activities performed.  JTF moderators are able to both observe and probe on respondents actions in real time, seeking deeper understanding of their thought process, behavior and motivations.
Just The Facts Market Research works closely with clients on development of both screening criteria to ensure the right respondents are selected for focus groups, as well as the discussion-topic guide used during the qualitative process.
A great deal of "richness" and understanding can result from qualitative, focus group, and IDI market research, where a "highly experienced" moderator is the key to sound results for guiding client decision-making.
To discuss your project needs, call us today at 847-506-0033 for a FREE consultation!