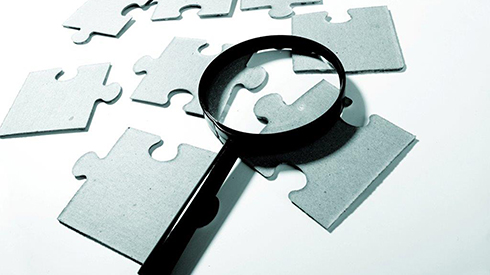 Just The Facts Strategic Project Examples & Case Studies
Over 30 Years of Great Client Outcomes and Proven Results from Cutting-Edge Research, Individually Tailored to Meet Customer Challenges.

About Us - Strategic Intelligence Through Market Research
Click on Heading to View Corresponding Case Examples Below:
Project Examples & Case Studies In-Process:
Consumer Food Products
Mis-Targeted Package Design: "Top 10" prepared foods marketer had introduced a new color and themed packaged.  They did no significant research, assumed it was an improvement, and rushed the item to market.  When sales fell 20% in the first 8 weeks of relaunch they panicked, but wisely called upon Just The Facts for help.
Through our "Qual-Quant" process many flaws were uncovered: confusing layout scheme that was lost on the shelf, a nearly identical color mix to a new competitor; brand name had been made much smaller and was lost on the shelf; lack of  "on-pack" cross-promotion ideas for this ingredient item; minimal visibility of the product and the great need for larger window and "quick & easy" menu suggestions.
RESULTS:  Just The Facts uncovered these packaging and tactical problems, recommended changes.  The product was re-launched properly and sales immediately improved by 17%, a 42% reversal of initial performance.
Smart Building "Solutions" in Future
Getting the A,B,Cs Right:  This engagement's client is a leader in smart building components, controls and devices. They were interested in learning more about "next generation" focus of decision-makers for commerical, manufacturng, and large office – residential buildings.  The goal was to take a forward look at the "what if's, the nice to haves, cutting-edge"opportunities for the future.
JTF executed a series of in-person focus groups with facility managers, directors and operations management to obtain their perspective on where the market is today, and then "blue-sky" the future on interests and needs for future "connectivity solutions" relating to efficiency, comfort, effectiveness and cost control.
RESULTS:  The outcomes were very eye-opening for our client who was transitioning from being just a components supplier to that of a full service "solutions provider."  The research held crystallize the client's thinking on where and how to go about their new strategic focus relative to what new products efforts should be, and how to better meet the needs of current and prospective customers in the rapidly growing "smart building" arena.
Educational Market Assessment for MBA Programs
Not Business as Usual:  This well known MBA program had been growing for several years, but was facing increased competition from other Chicago-area schools.  JTF began this strategic assignment initially with a series of qualitative methods.  Primary competitive programs were identified by our client, we then recruited both their MBA students and competitors (using unique approaches to recruiting).
During in-person focus groups with MBA students from all the major programs, we probed on school selection and decision-making, overall program satisfaction, course selection, curriculum, likes-dislikes, attitudes, behaviors and other perspectives.
RESULTS:  From this Phase I level of research certain opportunities became very clear for our client in terms of what was missing and what students' desired in an effective MBA program.  Our client was able to make quick adjustments to their future offerings as well as other amenities that had gone untapped by competitors. 
The results were dramatic in that our client experienced a 27% increase in enrollment, followed by further incremental growth once other mid-long range strategies were finalized and implemented.
Associations for Physician, Surgical Specialties, and Medical Devices
Association Evaluation:  JTF has worked with a wide range of leading Medical, Physician, Surgical, Medical Device and Healthcare Associations.  Projects have encompassed post conference evaluations, course content and delivery quality, website usability, membership interests-needs, and medical device monitoring and testing.
RESULTS:  In all these studies JTF has provided unbiased input, development of sound research techniques, and reporting of critical findings to improve our association clients' achievements and optimization of products and programming.
Consumer Durable Products
Appliance Control Panel Over-Engineered:  A "top 5" washer/dryer marketer had re-designed it's display control panel to be more "high tech."  The client was sure the new panel design was what consumers wanted but decided at the last minute to conduct some pre-manufacturing research just to make sure.
A JTF moderator conducted a wave of in-person – IDIs where new designs were compared side-by-side to other major brands.  It soon became obvious that competitive models were all greatly preferred.  Consumers consistently stated they didn't like the new "high-tech" appearance and found other brands intuitive to operate.
RESULTS:  The findings caused our client to immediately halt plans for production and go back to the design table. This research had immediate client savings of $7-10 million by not moving forward with an unacceptable product line.

Hospital Environment = Patient Health & Faster Recovery
Becoming a customer-centric choice:  A large, world-renowned hospital was concerned about patient welfare, improving quality recovery times, and shortening stay time.  JTF was tasked with evaluating staff-department responsiveness and operational systems across the entire enterprise.
This research entailed meeting with senior management and determining their current and desired goals for improving patient experience at the hospital.  JTF then conducted in-depth interviewing of staff in all the major departments: physicians, nurses, maintenance, IT, technical services- lab/radiology, transporters, and housekeeping.  Interviews were also conducted with former patients of the hospital.
During the process, JTF learned about how even seemingly "little events" had significant impact on patient well-being and recovery time.  For example, one patient spoke of being very ill and desired peace and quiet, yet a maintenance worker insisted on banging on pipes and repairing a ceiling area 10′ from the patient's bed!
RESULTS:  JTF's research proved "eye-opening" as hospital management realized the many seemingly small events impact on patient recovery and overall wellness progress.  With our findings in hand, the hospital implemented a "top-to-bottom" overhaul of educating and training staff on desirable protocols that were in fact, "customer-centric."
The actions paid measurable dividends as patient satisfaction improved 23%.  Further, there was also attainment of great staff morale, as they all were now working with a singular focus, and understood the relationships between patient wellness and their job roles.
Mobile Opportunity & The Internet of Things (IoT)
Consumers Seeking Smart Ideas:  The entire online world is rapidly changing with what is known as "The Internet of Things" (IoT) where virtually anything and everything is connected seamlessly, using a common platform. 
JTF researched opportunity areas for a leading mobile & smart phone manufacturer exploring areas of current and future interest to enhance consumers' usage and connectivity with mobile devices. Consumers were asked to evaluate and rate mobile offerings that would make their lives more responsive and integrated.
RESULTS:  The outcomes uncovered a range of opportunity areas that emerged into three primary categories: those with more immediate implementation – eg."low hanging fruit", those of an intermediate nature, and then long-term, "blue sky" interests which had appeal but required greater sophistication to execute.
Coffee Flavors Evaluation
New Flavors Brewing:  An innovator in specialty coffees asked JTF to evaluate eight new potential flavored coffees.  They knew that not all eight held equal appeal and wanted to determine the "winners."  Further, two of the flavors were believed to be improvements on existing offerings.
JTF conducted paired-comparison taste tests to evaluate the new flavors.  The tests were conducted in multiple locations to minimize regional bias and obtain good representation.
RESULTS:  The two new replacements for existing flavors were preferred 3:1.  Of the entirely new flavors three were especially well liked and the client went forward with their launch.
It is estimated that introduction of the new and replacement flavors added $7-8 million of incremental revenue to the base business.  Further, the new flavors brought in additional trial and new users to the brand.

Optimal Store Site Location
Which Site to Choose:  A retail healthcare chain was acquired by a private investment group with the goal of rapidly expanding this innovative concept.  Just The Facts was asked to help ramp-up the turn around time in identifying profitable new locations.
JTF first evaluated the existing portfolio of sites and developed a normative database of key operating success criteria.  This data was then used to compare potential new sites in order to prioritize "winners vs losers."
The criteria considered: number of competitors target areas, consumers perceived need for our client's healthcare services, satisfaction with competitive offerings, and interest in trying a new provider.  JTF also researched existing demographic factors which were known success indicators in order to compare against new locations.
RESULTS:  This chain was able to pinpoint the best sites for new outlets and avoid those that were not suitable.  As the start-up risk exposure exceeded $2 million per location, "getting it right" was imperative.  To date, the research has enabled the client to profitably invest over $40 million wisely. 
Lawn & Garden Tractor Attachments
Proactive Competitive Reaction:  A leading marketer of attachments for lawn & garden tractors was seeking growth opportunities and diversification of it's core business.  Existing product lines were mature and revenues plateaued. The client sought to understand competitors' strengths, weaknesses and potential for acquisition.  Further, the client tasked JTF with finding other new product categories that would align with their core competencies in manufacturing, procurement and distribution channels through Big Box retailers.
RESULTS:  JTF through our "Knowledge Network" and "Human-Intel" methodologies was able to identify competitive target opportunities both in terms of acquisition potential and tactical marketing gaps to capture increased market share.  
Further, JTF's search for entirely new categories narrowed down 5 distinct "best-fit" segments, from which one firm was selected, purchased, and integrated into our client's product offering. This new product line contributed $3-5 million in subsequent revenues with profit margins exceeding 50%.
Global Confections
A Sweet Victory:  This major privately held global confections firm was undertaking a significant study with a dual objective of competitive intelligence and acquisition orientation.  JTF was tasked with executing a comprehensive analysis, review and recommendation for targets in the candy, snacks and sweets industry on a worldwide basis.
This mean JTF had to first establish criteria for "best fit" candidates of preliminary interest to our client based on characteristics such as: minimum threshold sales, breadth of product lines, manufacturing locations, brand strength, store penetration levels, relationships with retailers, consumer loyalty, new products innovation, and potential for growth under our client's well established brand umbrella.
RESULTS:  During the study JTF narrowed down the target acquisitions to three viable candidates.  One of the targets was in a completely new and desirable category which our client had not been able to penetrate successfully on their own. 
The target firm was also a long-time, well established, privately held entity. Negotiations were begun and agreements made.  The firm was acquired, and folded into our client's business seamlessly. This assignment provided our client with in excess of $500 million of new revenues streams, along with great opportunities for high profit new products.
Specialty Candles Market
This little light of mine:  Leading global mass merchandiser was interested in understanding the dynamics and opportunity for specialty candles and home air scent accessories.  They knew it was a growing market in specialty stores and were considering a complete over-haul of their 2,000+ home decor departments.
JTF undertook a comprehensive analysis of the scented candles and specialty store segment.  This study involved researching major specialty chains, their marketing strategies, merchandising execution, product mix, new product planning and more.
RESULTS:  The outcome of this assignment was dramatic.  The client proceeded to create a "store-within-store" boutique-like atmosphere in order to capture attention of existing customers and bring in new business that would have otherwise gone to specialty outlets.  Sales of these product lines, and similar items are estimated to have provided incremental volume of 40%+.

HVAC Market Non-Opportunity
Furnaces Too Hot to Handle:  A major global electronics & HVAC manufacturer was considering entry into the U.S. Traditional Furnace and Air Conditioning Market.  The domestic market is very mature and slow growth, especially after the major recession of 2008 and afterward; the housing market had collapsed and consumers were holding off new residential purchases.
Our client was a significant factor in European and Asian markets with their innovative HVAC products, but they sought methods of penetrating the U.S. by combining their existing technology with conventional ducted furnaces.  JTF conducted a comprehensive market intelligence study of the U.S. HVAC industry, it's competitors, growth, product mix, innovation, marketing, sales, distribution channels, warranty, and service offerings.
RESULTS:  JTF provided a comprehensive mapping of the U.S. HVAC industry and recommended our client not pursue entry via launch of conventional ducted equipment.  The market is too well entrenched with loyal distribution channel members, dealers and service providers already dedicated to existing, strong players like Trane, Carrier and Lennox.  It is estimated that this market intelligence research saved our client at least $5 million of investment that would not have been profitable even in the long-term.
SECONDARY- DESK TOP SEARCH
Identifying Target High Tech Firms
Secondary isn't to JTF:  A supplier of electronic parts used in military defense products and systems was seeking to identify potential customers for a new line of its parts.  Olur client was specifically desiring to pinpoint firms of a certain size and location.
RESULTS:  JTF utilized our proprietary "Knowledge NetWork™" of over 7,500 private databases to uncover the exact targets for our client.  The project met the tight timeline and delivered the precise results our client was seeking, and more! 

Internet of Things (IoT) Emergence
Incredible Connected World:  For this technology client, JTF conducted extensive secondary (desk top) efforts searching themes, trends, evolving ideas, "thought leaders", and applications. These included developing alliances of world-class firms seeking to define, capture and capitalize on an unheard of level of connectivity of devices and beyond.
RESULTS:  This research uncovered a wealth of insights from a wide array of sources in the JTF "Knowledge Network" regarding the multiplicity of events taking place surrounding IoT and connectivity.  The revolutionary thinking current happening is stretching the bounds of what was contemplated only 3-5 years ago.  Areas such as Smart-buildings and homes are just the tip of the iceberg.  The opportunities for connectivity is limitless from homes, to healthcare-wellness, entertainment, commercial, industrial, cities, roadways, transportation, power grids and the impact of "Big Data."
MALL & IN-STORE INTERCEPTS
Advertising Campaign Evaluation
Which ad concept is best: Our client, a major global advertising agency was preparing a new ad campaign and had developed four concepts.  Prior to advancing too far, they wanted to conduct a "gut-check"on the concepts'interest and appeal to the target audience.
JTF used our nationwide shopping mall intercept research sites to test these four concepts and evaluate their effectiveness.  We used geographically dispersed mall sites in order to minimal any regional bias and ensure a statistically sound representation.
Research evaluated multiple aspects of the concepts including: uniqueness, awareness generation, trial interest and likelihood of repeat purchase. Of  the four concepts, two were found to be unacceptable.  Among the other two, one was a clear "winner", and another needed fine-tuning. 
RESULTS:  After making adjustments to both positive concepts, a second wave of research was done to ensure the concepts were now optimized.  The original "winner" was selected for further refinement and ultimate launch.  The campaign was very successful and attained all goals for growing audience awareness, trial and repeat business.

Teens and Young Adult Apparel
Store with Appeal:  "Top 3" Global Consulting firm hired JTF to evaluated a nation-wide youth clothing chain regarding a variety of key factors.  The chain's revenues had been lagging its key competitors and management sought to understand the mindset of their youthful customers and non-customers.
JTF conducted 1,000 in-store interviews in 12 cities across the U.S. in major shopping mall locations.  The target audience was males and females 18-25.  Our interviewers monitored in-store shoppers for those purchasing and those not purchasing.  The goal was to understand why a transaction occurred or did not.
Respondents were probed on this major chain's branding, image, product selection and mix, price, customer service and store environment relative to competitors.
RESULTS:  From this research it was learned that the chain had not been keeping up with its past image, quality, selection and price.  The chain had tried to emulate another fast growing competitor and it was not working for them. Changes our client made were not in sync with their brand image and had "turned-off" loyal customers.
After analyzing JTF research and recommendations the chain shifted back to the core elements of their prior success. Over the next 12-18 months same-to-sales grew at a steady pace of 7-10%, a reversal of the -5% decline the prior year.  Additionally, store traffic counts improved measurably by 15-17% year over year.
Electronic Components
Website Short-Circuited:  Leading Global Electronic Component Parts firm was wresting with the development of a new website to integrate it's U.S. and European businesses. Over 50% of the client's business was from online orders so it was critical to have it functioning properly.
Their customers, Electrical Design and Board-Level Engineers, Facility and MRO Managers told us the new site needed to be user-friendly, have fast response, clear ability to place orders, and understandable content.  Competitors' sites had already been up-graded and were superior to our clients.
RESULTS:  After conducting in-depth user analysis of the entire website, from home page to interior pages, JTF uncovered a host of issues that were frustrating customers.  From the initial research, a second wave of newly developed site navigation and page content were compared in side-by-side evaluations to competitors.  
The new design was found to greatly improve effectiveness and easy of use.  It's estimated the site improvements and ease of use achieved incremental revenues of $2-3 million during the initial period of implementation alone.
Insurance Optimization Ensured
Risky Business Averted:  A well-regarded national insurance carrier was concerned about the usability of it's website versus competitors.  JTF was tasked with a comprehensive evaluation of the client's site relative to key competitors' sites, their ease of use, content, navigation, contact and response time.
RESULTS:  After extensive testing of the client's site and competitors, key areas of re-development were uncovered. The learning clearly pinpointed significant shortfalls of the client's website and areas needing attention. This new understanding of deficiencies was used to develop a plan of user-friendly targets for up-grading and refinement. Once completed, the changes had a dramatic impact on web usage, engagement and new customer relationships.  Usage of the site increased by more than 35%.
MOBILE "IMMEDIATE MOMENT™"
Consumer Shop Along
Strolling for Baby:  A marketer of infant and child strollers wanted to learn about young mothers' decision process in the selection of these products.  They wanted to be as close to the real shopping experience as possible so as to understand selection criteria, comparison shopping,  perceptions of competitive products and in-store behavior.
RESULTS:  Using their personal mobile devices, consumers reported on their thought process while in the stroller aisle of retailers.  They recorded their thoughts on various products in "real time" and their likes, dislikes, and impressions during the final purchase decision.  The insights gained from this "Immediate Moment™".  This process enabled the client to shorten their learning curve and speed up the development and launching of a new line of stroller offerings.
Grocery Chain Customer Retention
Raising the Bar:  "Top 20" Grocery and C-Store chain with over 1,000 stores selected JTF to execute a multi-year strategic mystery shopping program to improve customer satisfaction through employee performance.
JTF worked closely with senior management to understand the current baseline employee behavior, desired end goals, and then guided a tactical employee training plan to correct the performance gaps.
Our shoppers visited stores on a weekly basis to evaluate a wide range of criteria from overall store operations and appearance, to individual department's knowledge and selling abilities, and providing a welcoming, customer-centric experience.
RESULTS:  Over the contract period, continuous performance gains were achieved.  Training was custom tailored to individual stores and departments, and store managers witnessed increased store sales and profits.  The end result was greater customer satisfaction, retention and loyalty.
New Product Development & Competitive Benchmarks
Bad Hair Day Resolved:  "Top 5" Personal Care Marketer was developing a new line of home-use electric hair dryers.  JTF was asked to procure dozens of competitive products from Europe and Asia.  These were to be used to evaluate for "best-in-class" features, form and function.  The client was under a tight deadline,so it was urgent the project be completed quickly.
RESULTS:  JTF's global field team located in over 60 countries was utilized to search out and procure the desired product samples.  We visited local retail stores, spoke with store clerks concerning best-sellers, noted any special promotional activities, in-store display materials, and  purchased items.  Everything was handled by JTF: proper packaging for shipment to our Chicago offices, shipping requirements from each country, and resolving any customs issues.
STRATEGIC MARKET CONSULTING
Small engine – transmission manufacturer managing growth
Taking the next step, strategic plan:  The leading supplier of small engine transmissions had grown rapidly in the past five years (15-17% annually) and needed a strategic marketing consulting partner to help them effectively manage and plan for future growth.  Their transmissions were the #1 brand used in equipment sold in Big Box stores throughout the U.S.
Our client desired assistance in evaluating their current position and how to prepare, manage and continue growth for the future.  JTF began by interviewing employees from C-level, directors, managers, supervisors, and line workers.  This was done to identify current perceptions about the firm, it's core competencies, untapped potential, and vision for the future.
JTF also executed extensive analysis of the present company mission, strategy, competitive environment, channel and distribution factors and existing marketing efforts.
RESULTS:  Through this process JTF was able to establish the strengths, weaknesses and opportunities to guide our client into the next 5-10 years of strategy, planning and growth.  It was determined that some areas of the firm needed a higher staff expertise level, especially in the marketing and sales departments; JTF assisted in finding the right personnel.
JTF held off-site strategy meetings to share our findings with senior management and the "Board" so they would all be at the same understanding, and to provide for interchange, dialogue and "buy-in" of the new direction.
The strategic recommendations by JTF were accepted and this client continued it's growth at an even higher level than before (20%+).  Further, their new marketing and sales strategies enabled them to increase penetration, market share and solid growth with products sold through Big Box retailers and other distributors.
To discuss your project needs, call us today at 847-506-0033 for a FREE consultation!